Doctor model Refraction Unit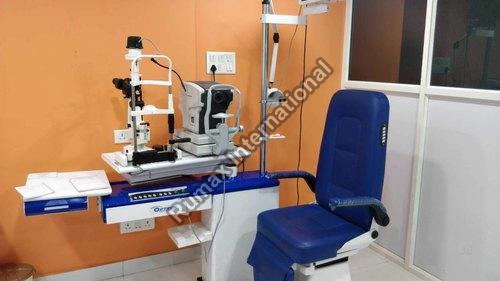 Price :
1.10 Lac - 1.20 Lac
/ Unit
MOQ : 1 Piece
Business Type
Manufacturer, Exporter, Supplier
Color
White
Model Name/Number
Doctor Model
Table Top Size
16x21 inch
Click to view more
Product Details
Seat Height Down
(21 Inch) 29 Inch
Feature
Easy To Use, High Accuracy
Maximum Pupil Distance
45-85mm
Power Supply
AC100 ~ 240V,50/60HZ
Maximum Pupil Diameter
0.2mm
Axis Angle
1 Degree to 180 Degree (Step 1 Degree)
Vertex Distance
0 mm,12.0 mm,13.75 mm,15.00 mm
Axis
0~180 Degree,1 Degree steps
Corena Astigmatism
0.00~15.00 D (0.12 / 0.25-D Step)
Display
5.7 inch true color LCD
Corena Diameter
2.0~12.00 mm
Cylinder
80D~ 8D,0.12D/0.25D steps
Print
Imported thermal printer
Sight Target
Auto Fog Chart
Corena Diometer
33.00~ -67.00-D(0.12/ 0.25-D step)
Pupil distance
45~85 mm,0.5 mm steps
Saving Mode
5/10/30/60 (Minutes Without Operation automatically Show Screen Savers)
Keratometery Radius
5 ~ 10 mm (0.01 mm step)
Spherical Degree
Sphere (sph): -25D~ 22D,0.12D/0.25D steps Cylinder (cyl): -80D~ 8D,0.12D/0.25D steps Axis : 0~180 De
Dimension
275(W) * 509(D)*430-460(H)mm
Charter
Automatic fogging method
Product Specification Usage Hospital Categories Examination Equipments, Surgical Equipments, Diagnostic Equipments, Laser Equipments, Clinical Analytical Equipments Operation Mode Semi-Automatic Handling Non-Portable Color ALL Brand Optech Material Metal Is It Portable Non Portable Power Fuse 6.A. 6.A. Auxiliary function Yes Power supply AC 230v,50Hz Table top size 16" x 32" Ophthalmoscope tray Yes Front back Manually Table top sliding Yes Instrument on table top Two Membrane Switch Panel Board Yes UP DN operating by Panel & foot switch Foot rest Yes Slit lamp connection Yes Chair rotating 180 Yes Power consumption 100w Trial Set Drawer Yes Weight Carrying Capacity 200 kg Traveling 200 mm Seat Height Down UP (21") 29" Head rest Yes Minimum Order Quantity 1   Product Description Semi Motorized Ophthalmic Refraction Unit for ophthalmologist. It provide up-down movement with impoterd DC motor and back-forward manual movement, with tabletop for Two instruments. It comes with Motorized VIsion Drum and Doctors Stool.Available in variety of colors.
Looking for "
Doctor model Refraction Unit

" ?
Unit